Herräng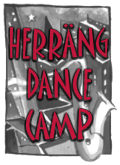 The Herräng Dance Camp claims to be and probably is the world's greatest swing dance camp. It is the nearest thing to paradise I have ever encountered, and if I could find some more powerful mosquito repellent, it perhaps would be paradise. Below you see a series of accounts of my visits there, which also serves as a story of my arrival in the world of Lindy hop. In 1999 I was a modern jiver who thought he was a good dancer, but was in for powerful lesson in perspective. By 2002 I was a committed swinger who taught his first lesson at Herräng.
Herräng Videos
In 2011 I shot a load of video at the camp, and then edited it into lots of short subjects and uploaded them to my channel on YouTube.
Introducing Herräng
Are Swing Dancers Geeks?
Retrovesters of Herräng
The Vital Moustache Issue
Speed-Dating at Herräng
Herräng Volunteers
Making Friends at Herräng
Beauty at Herräng
It's Herräng Party Time!
Herräng Accommodation
The 24-hour Thingy Thingy
Herräng Shops
On The Blues
What Is Slow Drag?
To Dance Or To Sleep?
Marriage Via Herräng
How To Say 'No'
Herräng Facilities